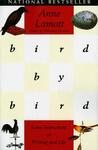 Bird by Bird: Some Instructions on Writing and Life
by
Anne Lamott
My rating:
3 of 5 stars
I've been meaning to read Anne Lamott's Bird by Bird for some time now, especially as it is always being quoted on Brainpickings.com.
It's a witty, absorbable read, easily devourable in a couple of hours. Offering advice on facets of writing that range from perfectionism to libelling real-life people in your work ("Give the character a small penis," Lamott suggests. "Then he won't come forward."), Lamott is both honest - and witty. I would say that the book's weakest element is perhaps its pithiness; in some chapters, I wish Lamott had chosen to extend her scope a bit further and to tap into other stories and other dimensions of the writing life. Nonetheless, Bird by Bird is a genuine and honest 'writer's guide' that inspires and encourages one to pick up the pen - and take the writing process "bird by bird."
"Writing and reading decrease our sense of isolation. They deepen and widen and expand our sense of life: they feed the soul. When writers make us shake our heads with the exactness of their prose and their truths, and even make us laugh about ourselves or life, our buoyancy is restored. We are given a shot at dancing with, or at least clapping along with, the absurdity of life, instead of being squashed by it over and over again. It's like singing on a boat during a terrible storm at sea. You can't stop the raging storm, but singing can change the hearts and spirits of the people who are together on that ship."
To be a good writer, you not only have to write a great deal but you have to care. You do not have to have a complicated moral philosophy. But a writer always tries, I think, to be a part of the solution, to understand a little about life and to pass this on.
"For some of us, books are as important as almost anything else on earth. What a miracle it is that out of these small, flat, rigid squares of paper unfolds world after world after world, worlds that sing to you, comfort and quiet or excite you. Books help us understand who we are and how we are to behave. They show us what community and friendship mean; they show us how to live and die."
"Perfectionism is the voice of the oppressor, the enemy of the people. It will keep you cramped and insane your whole life, and it is the main obstacle between you and a shitty first draft. I think perfectionism is based on the obsessive belief that if you run carefully enough, hitting each stepping-stone just right, you won't have to die. The truth is that you will die anyway and that a lot of people who aren't even looking at their feet are going to do a whole lot better than you, and have a lot more fun while they're doing it."
View all my reviews